WE ARE SANTANDER: RECRUITER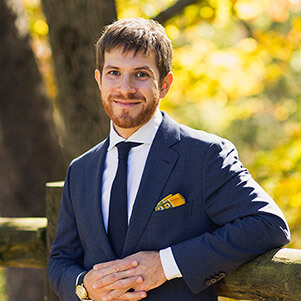 Where did you work before you began at Santander?
I worked for TH Productions, a small experiential marketing firm in NYC, as their HR Manager. Prior to that I was the Program Manager for a nightlife marketing program for the NYC market.
Why did you apply to Santander?
Honestly, I did not see myself working in banking 10 years ago, or even 5 years ago. I moved to Philadelphia in 2012 to be closer to family. I had left my previous job behind in NYC, and was getting by doing some freelance recruitment & project management work for event companies. My name and resume made its way over the recruitment team here at Santander, and I found myself in our Villanova office one day meeting with someone from our team. I was immediately sold. Prior to that day, I had not considered a career in banking, and if it wasn't for the enthusiasm, passion, and honesty displayed during my interview, I might never have joined the team. I am a big believer that everything happens for a reason, and I am thankful every day for the decisions and actions that led me to Santander.
Tell us a little bit about what you do at Santander?
I provide HR & recruitment support to the Retail Network of PA East & NJ Central. As a partner to all of our hiring managers, we work together to identify strong internal & external talent solutions that match our vision, values, and goals.
How do you think Santander is different from the competition?
Our people are truly amazing. Our team members embody Personal, Simple, & Fair in everything that we do, as a result I believe we are developing a trustworthy, sincere, and transparent brand image from an internal & external perspective. I talk to potential team members every day, and during almost every conversation I hear stories about how they have heard great things about Santander or had a positive experience with one of our team members. This is a direct result of how We Are Santander. The way talk about our job, company, and co-workers to friends and families is setting us apart in the market.
What do you love about your job? What do you look forward to everyday?
I love that every day here is different. I work with an amazing team of HR professionals who are kind, supportive, and motivating. I have a director who truly cares how I feel, takes my opinion seriously, and makes me feel valued as a team member. I have executive leaders that know who I am, and respect and acknowledge my contributions to the group. This type of culture does not exist in many companies and I'm proud to be a part of this team and share my experiences with future team members!